Roofing Services
Our Technicians Are Licensed & Certified
Charleston Roofing Services
The roof is an essential part of any home or office, offering both practical protection from the environment and aesthetic value for the property. Our Charleston roofing services cover all aspects of rooftop care, from maintenance to repairs to replacement.
Restoration Roofing is a family-owned business serving Charleston, Mount Pleasant, and North Charleston. Rooted firmly in the communities we serve, Restoration Roofing stands by our work and our reputation.
Call us at (843) 306-2939 or reach out here online today.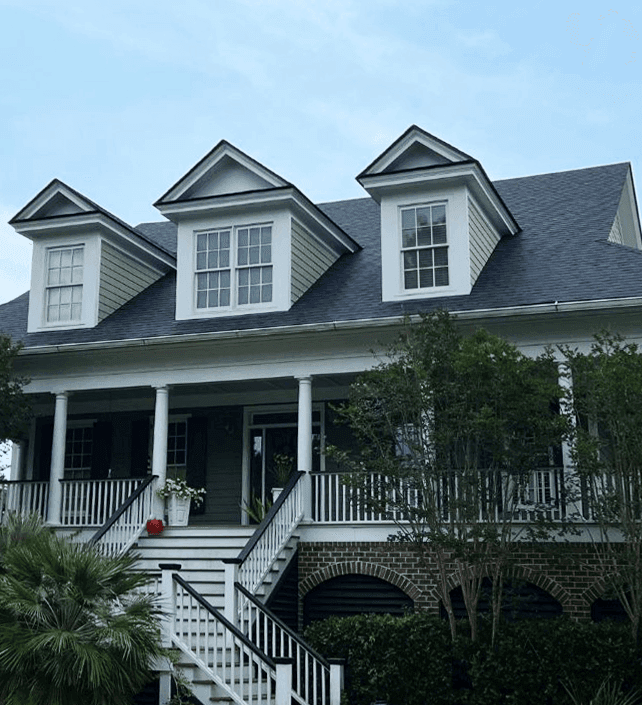 We Provide Quality Roofing Services & Keep You Informed Along the Way Five-Star Customer Service Is Our Standard
Roof Inspection, Repair & Installation
Our Charleston roofing services go end-to-end through the lifespan of a roof. Regular maintenance visits provide numerous benefits to property owners. Potential damage can be detected and addressed early on, potentially saving significant costs on repairs. What's more, not only can owners get peace of mind that comes from knowing their roof is in professional hands, but they can take the time that would otherwise be spent poking around on a roof and use it for more enjoyable or productive activities.
Even a well-maintained roof still inevitably needs some repair work. It is imperative to address roofing repair issues as soon as they are suspected. Even seemingly minor damage, such as cracked tiles or missing shingles, can cause leaks. These leaks can lead to mold growth, structural damage, and even costlier repairs down the line. By quickly addressing roofing issues, one can preserve the integrity of their home in a way that is cost-effective over the long haul.
At some point, simply replacing an old or damaged roof may be a more cost-effective solution than constant repair work. Not only does this improve the performance and durability of the roof, but a new installation can also increase curb appeal and energy efficiency, through enhanced insulation and ventilation. Furthermore, a new roof can increase property value. A good decision on roof installation materials will factor in the ultimate resale value of the property, with the goal of transforming short-term installation costs into long-term profit.
Licensed & Insured

We make it easy for you to have confidence in the team you call.

Emergency Services Available

Roofing emergencies can't wait. Call for immediate help.

Same-Day Service

Don't wait weeks for an appointment. Book us same-day!

Get a Free Estimate

We make it easy to get started with a completely free quote.
Contact Our Charleston Roofing Service Technicians Today
When you're a family-owned business, like Restoration Roofing, your reputation is everything. Customers rely on us for workmanship they can depend on and assessments they can trust. We work hard to earn that trust each and every time we go out on a service call, and we stand by our finished product.
Contact Restoration Roofing by calling (843) 306-2939 or through filling out our online contact form today.
Hear From Our Happy Customers
At Restoration Roofing, your satisfaction is our priority! See for yourself what our customers have to say about working with us.
"Restoration Roofing did a great job on our roof. Matt made the whole process simple for us. He was friendly and professional. He serviced our roof while we were out of town and sent pictures throughout the entire process. I would definitely recommend."

- Matt B.

"Matt and his team were extremely responsive when repairing and replacing our damaged roof. Very professional and attentive during the entire process. They were also remarkably fast with the turnaround and actual scope of work. Highly recommended!"

- Hawk F.

"As we were about to sell our house, we learned our roof needed to be replaced. Restoration Roofing was quick and professional. They communicated well and were flexible with the payment method. They also handled coordinating with our insurance company."

- Alexis R.

"Restoration Roofing was very prompt & professional. They came and did what they had to, leaving the area around our house just like they found it with no debris left behind. We would definitely recommend this company."

- Towanna B.

"Restoration Roofing was awesome. Ahead of schedule, respectful, and more than willing to work with us throughout the process. Everything was explained from start to finish. Wouldn't hesitate to call them again."

- Michael P.

"This was our first experience replacing a damaged roof in accordance with our insurance company. Restoration Roofing was knowledgeable, patient, responsive with communications, and simplified the process."

- Kristin W.

"Restoration Roofing did a great job on our roof. They made the whole process really simple, from talking to insurance to scheduling the new roof installation."

- Michelle Z.

"The process was smooth from beginning to end. They handled everything from taking photos of the damage and reaching out to my insurance company, to following up after the repairs and cleanup. All work was done in a day, and the roof looks fantastic!"

- Patti H.