Goose Creek Roofing Services
Here to Help You Keep Your Roof in Top Condition
Your roof is more than just an aesthetic element; it is your home's first line of defense against nature's elements. At Restoration Roofing, we are committed to providing quality and affordable roofing services. That's why we take pride in our high-standard workmanship, employing only durable materials and advanced techniques.
Our licensed and insured professionals can help with a range of roofing services, including:
Roof inspections. Our team at Restoration Roofing understands the importance of a sturdy roof for your home's safety and resilience. We offer comprehensive roof inspections and will examine every corner of your roof to identify any existing issues or potential threats. Our experts meticulously examine the condition of your shingles, gutters, flashing, and more, providing a detailed report on the health of your roof. This allows us to recommend any necessary repairs or preventative measures to help you avoid costly damages down the road, ensuring your peace of mind.
Roof repairs. We also provide a wide variety of roof repairs, from simple patch-ups to more extensive replacements. Our technicians assess the damage and determine the best course of action for your property while providing sound advice on maximizing your roof's lifespan.
Roof installation. If your existing roof is beyond repair or you want to upgrade it, our team at Restoration Roof can discuss your options with you and help you replace or install a new roof.
Metal roofing. These roofs are an affordable option that can be shaped into assorted styles to fit your needs.
Flat roofing. If you need consistent access to your roof or have solar panels, a flat roof may be the best option for your property.
Slate roofing. These roofs are more expensive, but they offer a stylish yet durable look that will last for decades.
Shingle roofing. If you are looking for a fast and cost-effective option, shingle roofing is an excellent choice.
We offer a full range of roofing services for residents in Goose Creek and the surrounding communities. Call (843) 306-2939 to learn how we can help you.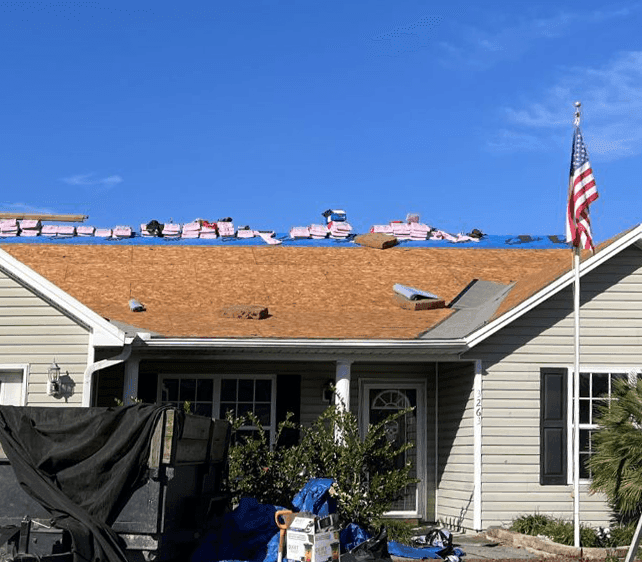 Our Roofing Services
How We Can Help You?
Licensed & Insured Roofing Professionals
The Importance of Roof Inspections
Roof damage can occur in many ways—age, weather conditions, poor installation, and lack of maintenance being some of the primary culprits. Regular roof inspections play a crucial role in identifying potential issues early before they escalate into major problems. Without these inspections, many issues can arise:
minor leaks can turn into significant water damage;
loose shingles can lead to structural instability; and
unnoticed wear and tear can result in inefficient temperature control.
Failing to conduct regular roof inspections can lead to severe financial and safety risks. Small issues that could have been addressed early on can escalate into more substantial damage, leading to costly repairs or even entire roof replacements.
A damaged roof poses safety risks, such as potential roof collapse, especially under heavy snow or ice. It can also become an entry point for pests, further endangering the building's integrity.
Common Roof Repairs
Some of the common roofing problems that can require repair include:
Roof leaks. Roof leaks are a major headache for homeowners. Leaks can stem from multiple sources, like damaged shingles, cracked flashing, or flawed installation. Look for telltale signs such as water stains, drips during rainstorms, or damp spots in your attic.
Missing shingles. Missing shingles expose your roof to water damage and leaks. They can be caused by high winds, poor installation, or the natural aging process. It is time for a repair if you notice bare spots where the shingles should be.
Sagging roof deck. A sagging roof deck is not only unsightly but can also indicate serious structural issues, such as excessive weight (from snow or ice), water damage, or rotting supports. If you notice a noticeable dip in your roofline, call a professional immediately.
Clogged gutters. Gutters filled with leaves, twigs, or other debris can prevent water from properly draining off your roof, causing water to back up under your shingles and seep into your home. If you see overflowing gutters or water stains on your siding, you might have a clog.
Need roof repair, replacement, inspections, or installation? Contact Restoration Roofing online or via phone today.
Hear From Real customer
Reviews & Testimonials
See what people have to say about working with us!
"Restoration Roofing did a great job on our roof. Matt made the whole process simple for us. He was friendly and professional. He serviced our roof while we were out of town and sent pictures throughout the entire process. I would definitely recommend."

- Matt B.

"Matt and his team were extremely responsive when repairing and replacing our damaged roof. Very professional and attentive during the entire process. They were also remarkably fast with the turnaround and actual scope of work. Highly recommended!"

- Hawk F.

"As we were about to sell our house, we learned our roof needed to be replaced. Restoration Roofing was quick and professional. They communicated well and were flexible with the payment method. They also handled coordinating with our insurance company."

- Alexis R.

"The process was smooth from beginning to end. They handled everything from taking photos of the damage and reaching out to my insurance company, to following up after the repairs and cleanup. All work was done in a day, and the roof looks fantastic!"

- Patti H.
Why Choose Restoration Roofing?
We Provide Top-Notch Roofing Service & Insurance Claim Guidance
Licensed & Insured

We make it easy for you to have confidence in the team you call.

Emergency Services Available

Roofing emergencies can't wait. Call for immediate help.

Same-Day Service

Don't wait weeks for an appointment. Book us same-day!

Get a Free Estimate

We make it easy to get started with a completely free quote.