Roofers in Ladson, South Carolina
When your roof needs professional attention, make the call to Restoration Roofing. We offer a range of services that can suit your roofing needs. From timely repairs that are made to last to installations using high-quality and budget-friendly materials, you can find it all with us.
As a family-owned company, trust is paramount for our business's success and customers satisfaction. This is why we work hard daily to earn the trust of those who turn to us.
How do we do it?
At Restoration Roofing, we:
Offer same-day services and are available 24/7.
Give free estimates upfront.
Help customers get roofing materials that can add value to their homes.
Strive to be honest in all our interactions with customers.
We believe these things can make a big difference. See for yourself by choosing our team of Ladson roofers for your next project. We believe you will be glad you put your confidence in our family of roofing professionals.
Call (843) 306-2939 or reach out online to secure a free estimate. We can provide our services in English and Spanish.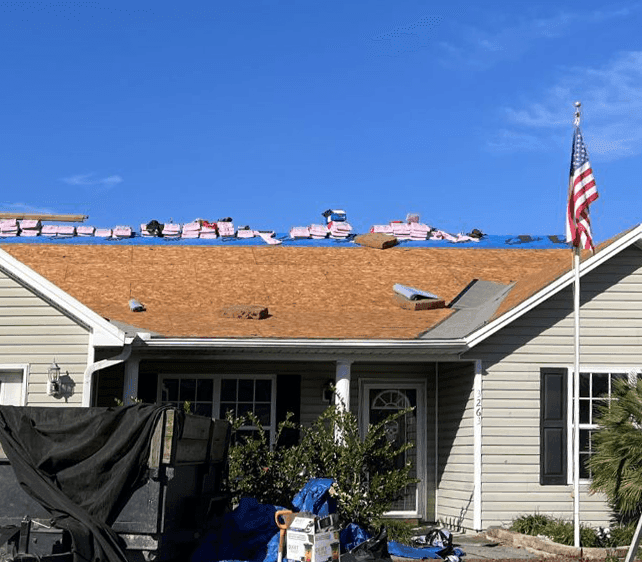 Our Roofing Services
How We Can Help You?
Six Signs It Is Time to Call a Roofer
Keeping your roof in great shape is important in a place like Ladson, where we are no strangers to severe storms. Doing so requires noting signs of issues and proactively addressing them. What are some of the common signs that spell problems, you ask?
Here are six signs it is time to call a Ladson roofer:
Evidence of Water Damage: Visible leaks or stains on your walls or ceiling are all signs of water damage. If left unaddressed, these problems could compromise your roofing materials and structure.
Missing or Damaged Materials: If you look up at your roof and see a patch of shingles is gone, or a metal panel has fallen off, do not wait to contact a roofer.
A Sagging Roof: It is as bad as it sounds. Should your roof start to sag, it likely has a structural issue that requires a professional to fix.
Clogged Gutters: If your gutters consistently clog or overflow, the excess moisture from them could be causing damage to your roofing and roof deck.
Moss or Algae Growth: This is a serious problem in a humid climate like ours in Ladson. Not only do these growths look bad, but they can break down roofing materials and compromise your home's protection.
Your Roof's Age: This is not always a sign you can see. Consider when you installed your roof and its material's average lifespan. Having a roofer assess the condition of your roof if it is nearing the end of its lifespan can help you get ahead of big problems.
Roof Damage Insurance Claim Help
Has a big storm gotten the best of your home's roof? You may be thinking about whether you can cover the costs of repair or replacement with an insurance claim. At Restoration Roofing, we have helped numerous homeowners do just that. We would gladly do the same for you.
If a storm passes through and you notice your roof is leaking or damaged, pick up the phone and call us. We can inspect your roof and facilitate communication with your insurance provider to help you get what you need.
For help making a storm damage insurance claim or any other roofing matter, make Restoration Roofing your choice.
Call (843) 306-2939 or connect with us via our online contact form.
Hear From Real customer
Reviews & Testimonials
See what people have to say about working with us!
"Restoration Roofing did a great job on our roof. Matt made the whole process simple for us. He was friendly and professional. He serviced our roof while we were out of town and sent pictures throughout the entire process. I would definitely recommend."

- Matt B.

"Matt and his team were extremely responsive when repairing and replacing our damaged roof. Very professional and attentive during the entire process. They were also remarkably fast with the turnaround and actual scope of work. Highly recommended!"

- Hawk F.

"As we were about to sell our house, we learned our roof needed to be replaced. Restoration Roofing was quick and professional. They communicated well and were flexible with the payment method. They also handled coordinating with our insurance company."

- Alexis R.

"The process was smooth from beginning to end. They handled everything from taking photos of the damage and reaching out to my insurance company, to following up after the repairs and cleanup. All work was done in a day, and the roof looks fantastic!"

- Patti H.
Why Choose Restoration Roofing?
We Provide Top-Notch Roofing Service & Insurance Claim Guidance
Licensed & Insured

We make it easy for you to have confidence in the team you call.

Emergency Services Available

Roofing emergencies can't wait. Call for immediate help.

Same-Day Service

Don't wait weeks for an appointment. Book us same-day!

Get a Free Estimate

We make it easy to get started with a completely free quote.