At Restoration Roofing, being family owned is more than just a phrase, it's an integral part of our identity. Our focus on family informs our core values and it is why we are so devoted to delivering first-rate roofing services for reasonable prices. It also speaks to our commitment and determination in providing exceptional service that you can trust.
As a small, family-run business, we recognize that our reputation is important. That's why we strive to be an integral part of the local community by sponsoring baseball and softball teams. It also means being honest and reliable, providing work which our customers can count on for years to come. We're proud to be able offer this level of service while giving back to our local community members.
At Restoration Roofing, we employ an incredibly talented roster of roofers. We are available for same-day emergencies and our team is equipped to handle all your roofing needs 24/7. What's more, with bilingual staff members, we provide our services in both English and Spanish, for your convenience.
Call us at (843) 306-2939 or contact our team online to schedule your roofing services on James Island today!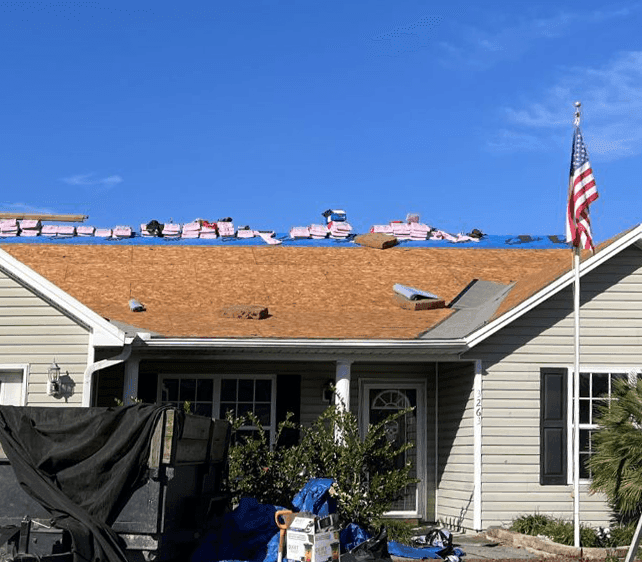 Our Roofing Services
How We Can Help You?
Storm Damage? We Can Help!
Insurance Claim and 24/7 Emergency Support
Not only does Restoration Roofing provide top-notch roofing services, but we also take the guesswork out of dealing with insurance companies. We understand how daunting it can be to file a claim in addition to getting your roof fixed or replaced - that's why our team takes on part of the burden for you by handling communication with your homeowners' insurance carrier. From gathering necessary documents and filing claims, to monitoring progress until completion, rest assured that we'll take care of everything so you don't have to worry about a thing!
Are you dealing with an emergency leak, missing shingles, or another problem after a storm? We also offer same-day and 24/7 emergency help to ensure smaller issues do not have the chance to develop into bigger, more expensive problems. Your roof, after all, is arguably the most important part of your home or business, and it does most of the heavy lifting when it comes to protecting your property. Our professionals will be there when you need us most so you will never be left without a roof over your head.
Our Roofing Services on James Island
With our roofing services, you'll enjoy a comprehensive experience that covers the entire lifespan of your roof. From thorough inspections to find and solve pending issues early-on, to full replacements once your current roof has become too costly to repair, you can trust that we will provide honest advice and top-quality services to ensure your peace of mind.
Repairing a damaged roof can be an expensive endeavor, and investing in new installation may ultimately prove to be the more cost-effective solution. Doing so will not only upgrade your roof's performance and sturdiness, but it can also improve energy efficiency with improved insulation and ventilation. Additionally, replacing your old roof is sure to add property value. During our inspection, we'll be honest in our findings – if it will be more cost effective to repair your current roof, we'll never oversell you on a new installation.
However, if your roof is at the end of its lifespan, or if it has been damaged beyond repair, we'll provide you with maximum return on your investment, helping you choose materials that will look great, last for years, and are likely to provide a higher resale value when you want to sell your home.
Whether metal, shingles, or slate, you can trust that we have the skill and experience to repair, maintain, and replace your roof. Call Restoration Roofing at (843) 306-2939 to schedule your free estimate!
Hear From Real customer
Reviews & Testimonials
See what people have to say about working with us!
"Restoration Roofing did a great job on our roof. Matt made the whole process simple for us. He was friendly and professional. He serviced our roof while we were out of town and sent pictures throughout the entire process. I would definitely recommend."

- Matt B.

"Matt and his team were extremely responsive when repairing and replacing our damaged roof. Very professional and attentive during the entire process. They were also remarkably fast with the turnaround and actual scope of work. Highly recommended!"

- Hawk F.

"As we were about to sell our house, we learned our roof needed to be replaced. Restoration Roofing was quick and professional. They communicated well and were flexible with the payment method. They also handled coordinating with our insurance company."

- Alexis R.

"The process was smooth from beginning to end. They handled everything from taking photos of the damage and reaching out to my insurance company, to following up after the repairs and cleanup. All work was done in a day, and the roof looks fantastic!"

- Patti H.
Why Choose Restoration Roofing?
We Provide Top-Notch Roofing Service & Insurance Claim Guidance
Licensed & Insured

We make it easy for you to have confidence in the team you call.

Emergency Services Available

Roofing emergencies can't wait. Call for immediate help.

Same-Day Service

Don't wait weeks for an appointment. Book us same-day!

Get a Free Estimate

We make it easy to get started with a completely free quote.