Roofing Services in Seabrook Island, SC
Seabrook Island is a beautiful place to live, but it can also be hit hard by hurricanes and other severe weather. When your roof is damaged, you need a reliable roofing contractor to help you get it back in shape.
At Restoration Roofing, we offer a full range of roofing services. We're here to help you with all of your roofing needs.
Call us at (843) 306-2939 today to schedule a free estimate.
Our Services
Roof repair
Roof inspections
Roof replacement
Roof maintenance
Residential roofing
Commercial roofing
Roofing emergencies
Why Choose Restoration Roofing?
When you choose us, you can expect:
Quality workmanship: We use only the highest quality materials and the most advanced techniques to ensure that your roof is built to last. Our technicians are fully licensed, so you know your home or business is safe in our hands.
Exceptional customer service: We will go above and beyond to make sure that you're satisfied with our work.
Competitive prices: We are committed to keeping our prices affordable, and we also offer free estimates. Our goal is to make sure you are never hit with an unexpected expense.
Fast, reliable service: We know that roofing problems can be stressful, and we're here to help. We offer fast, reliable service, and we'll work with you to get your roof back in shape as quickly as possible.
24/7 Emergency Roofing Services
When your roof suffers sudden, major damage, time is of the essence. A damaged roof can quickly lead to water damage, mold, and other costly issues.
That's why 24/7 emergency roofing services are so important. With our services, you can rest easy. Our team is just a phone call away, ready to quickly and efficiently fix any issues with your roof. We can quickly evaluate the problem and get to work on solving it right away.
Our professional roofers in Seabrook Island are standing by, so contact us online right away.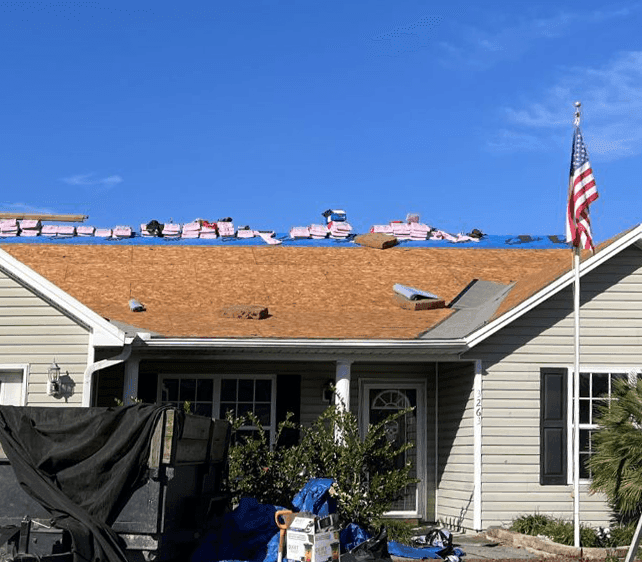 Our Roofing Services
How We Can Help You?
Hear From Real customer
Reviews & Testimonials
See what people have to say about working with us!
"Restoration Roofing did a great job on our roof. Matt made the whole process simple for us. He was friendly and professional. He serviced our roof while we were out of town and sent pictures throughout the entire process. I would definitely recommend."

- Matt B.

"Matt and his team were extremely responsive when repairing and replacing our damaged roof. Very professional and attentive during the entire process. They were also remarkably fast with the turnaround and actual scope of work. Highly recommended!"

- Hawk F.

"As we were about to sell our house, we learned our roof needed to be replaced. Restoration Roofing was quick and professional. They communicated well and were flexible with the payment method. They also handled coordinating with our insurance company."

- Alexis R.

"The process was smooth from beginning to end. They handled everything from taking photos of the damage and reaching out to my insurance company, to following up after the repairs and cleanup. All work was done in a day, and the roof looks fantastic!"

- Patti H.
Why Choose Restoration Roofing?
We Provide Top-Notch Roofing Service & Insurance Claim Guidance
Licensed & Insured

We make it easy for you to have confidence in the team you call.

Emergency Services Available

Roofing emergencies can't wait. Call for immediate help.

Same-Day Service

Don't wait weeks for an appointment. Book us same-day!

Get a Free Estimate

We make it easy to get started with a completely free quote.