Roofing Services in North Charleston
24/7 Roofing Services to Protect Your Property
Your roof plays an essential role on your property, protecting you and your belongings from inclement weather, increasing your property value, and providing the look that will fit your needs. Ensure that your roof is in its best form by investing in quality repairs and maintenance. Restoration Roofing's team of experienced technicians can help keep your roof in top condition. Whether it's routine upkeep or professional installation, we guarantee quick yet dependable work so you don't have to worry about any time lost.
We are available 24/7 and offer same-day service, so don't hesitate to reach out if you notice a leak, missing shingles, or other roof damage. As a family-owned business, we understand how important your property is, which is why we strive to earn your trust. We want to be your go-to team to call to protect what matters most – you and your family.
Call us now at (843) 306-2939 or contact online for a free quote. We offer services in English and Spanish for your convenience.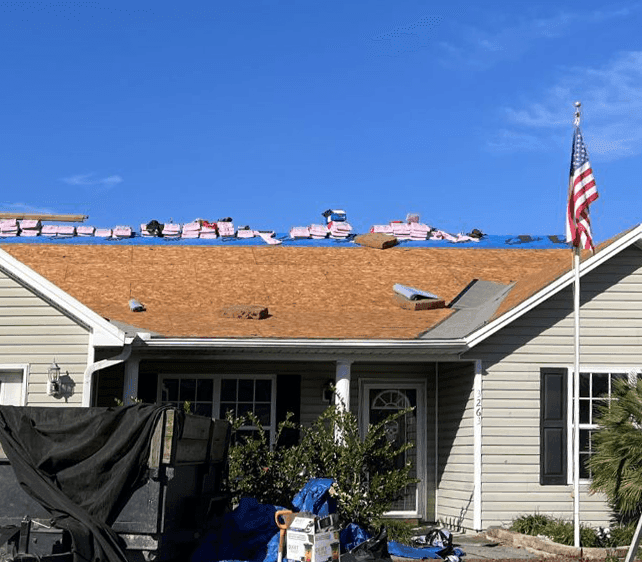 Our Roofing Services
How We Can Help You?
Honest Roofers in North Charleston
When considering the significant investment of a new roof, making an informed decision is key. With our team, you can trust that your best interests are at heart when weighing out the costs for repairs or replacement. We promise to deliver reliable advice while prioritizing customer care. We will never suggest a full replacement when repairs will be the more cost-effective option. Nor will we offer quick fixes and patches that will not fully protect your property. With us on your side, you can feel confident knowing you have trustworthy guidance helping you make decisions about your roofing needs.
Restoration Roofing offers a variety of beautiful options for your new roof, ranging from traditional shingle roofs, flat and metal design, and chic slate roofs. Our experts will help you assess each option's advantages and disadvantages, including cost, upkeep, and more, so you can make an informed decision about the best choice for your house or business.
Insurance Claim Help After a Storm
Dealing with a roof repair or replacement can be overwhelming, especially when you have to go through your homeowner's insurance company to get the claim paid out. After a storm, when you've noticed a leak, or if you have another emergency situation, our team at Restoration Roofing, will help you with your insurance claim, facilitating communication and working quickly to ensure you have the help you need, when you need it. We've helped countless homeowners with their claims and know how to guide you so you can focus on bigger, more important things.
Call (843) 306-2939 to schedule your free estimate today. We look forward to helping you.
Hear From Real customer
Reviews & Testimonials
See what people have to say about working with us!
"Restoration Roofing did a great job on our roof. Matt made the whole process simple for us. He was friendly and professional. He serviced our roof while we were out of town and sent pictures throughout the entire process. I would definitely recommend."

- Matt B.

"Matt and his team were extremely responsive when repairing and replacing our damaged roof. Very professional and attentive during the entire process. They were also remarkably fast with the turnaround and actual scope of work. Highly recommended!"

- Hawk F.

"As we were about to sell our house, we learned our roof needed to be replaced. Restoration Roofing was quick and professional. They communicated well and were flexible with the payment method. They also handled coordinating with our insurance company."

- Alexis R.

"The process was smooth from beginning to end. They handled everything from taking photos of the damage and reaching out to my insurance company, to following up after the repairs and cleanup. All work was done in a day, and the roof looks fantastic!"

- Patti H.
Why Choose Restoration Roofing?
We Provide Top-Notch Roofing Service & Insurance Claim Guidance
Licensed & Insured

We make it easy for you to have confidence in the team you call.

Emergency Services Available

Roofing emergencies can't wait. Call for immediate help.

Same-Day Service

Don't wait weeks for an appointment. Book us same-day!

Get a Free Estimate

We make it easy to get started with a completely free quote.