Woodville Roofing Contractors
Restoration Roofing is a family owned and operated roofing company dedicated to helping our community members with their roofing needs. From small repairs to larger reroofing projects, you can count on us to deliver outstanding results. We know the importance of ensuring all components of your home or business's roof are in optimum condition. We will complete every roofing project as quickly and efficiently as possible to ensure there is minimal disruption to your daily activities.
Schedule your service by calling us at (843) 306-2939 or filling out our online form today.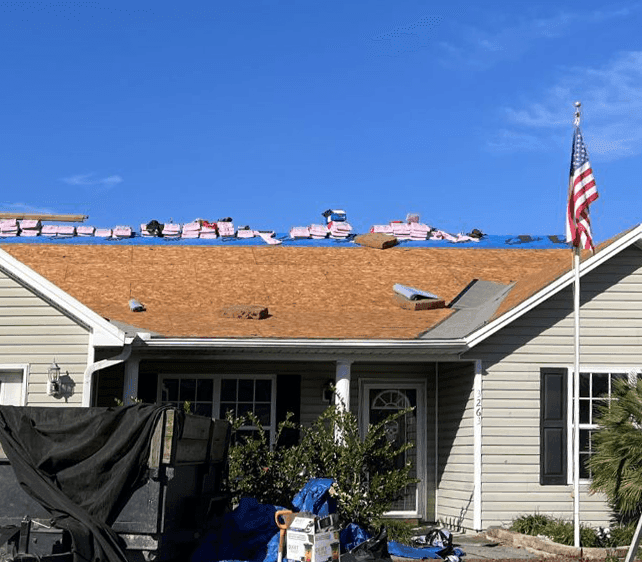 Our Roofing Services
How We Can Help You?
Our Roofing Services in Woodville
You can count on our team to provide the following services:
Roof Installation: From new construction projects to reroofing existing properties, you can count on us to deliver exception roof installation services. We will work with you to help determine the best materials and style for your property.
Roof Repair: Have you noticed water pooling in areas of your property after a storm? Or maybe there are shingles missing from areas of your roof. Whatever the issue, our professionals have the skills to repair it.
Roofing Inspections: If you are selling or purchasing a home, it's always a good idea to have the roof inspected for any damage you may be unaware of. We provide thorough roof inspections for these scenarios or if you would simply like your roof to be checked out for any possible issues.
Shingle Roofing: We service shingle roofing. Our professionals can install, maintain, and inspect shingle roofs of all materials.
Slate Roofing: Looking to give your home a more rustic aesthetic? A slate roof can help you achieve this. We provide a wide range of slate roofing services.
Metal Roofing: Metal roofs are not only budget friendly, but also last a lot longer than most other roofing materials. We can install, maintain, and repair metal roofs.
Flat Roofing: A flat roof is an easy way to keep the top of your home protected from the elements and store solar panels. The shape of this roof allows for optimal solar panel placement.
Signs Your Roof May Need a Repair
While there are obvious signs of roof damage such as puddles of water in the attic or other areas of your property. There are other issues to be aware of that could indicate a problem with your roofing system.
These signs include:
The roof is sagging: When a roof begins to sag, it could indicate that there is a buildup of moisture inside your roof.
There is moss growing on the roof: While it might look pretty, moss growing on your roof means there is an abundance of moisture in those areas. The moss will trap the moisture inside the roof and cause extensive damage the longer it remains.
There are a good deal of missing or damaged shingles: A few broken shingles are an easy repair, however if there are large areas of missing or broken shingles, you will need either extensive repairs or a complete roof replacement.
There are roof granules in the gutters: Leaves, twigs, and other debris are normal things to see when you complete a routine gutter cleaning. You should never see roof granules in the gutters, when you do, call our professionals.
Book your Woodville roofing service today by reaching out online or calling us directly at (843) 306-2939 today.
Hear From Real customer
Reviews & Testimonials
See what people have to say about working with us!
"Restoration Roofing did a great job on our roof. Matt made the whole process simple for us. He was friendly and professional. He serviced our roof while we were out of town and sent pictures throughout the entire process. I would definitely recommend."

- Matt B.

"Matt and his team were extremely responsive when repairing and replacing our damaged roof. Very professional and attentive during the entire process. They were also remarkably fast with the turnaround and actual scope of work. Highly recommended!"

- Hawk F.

"As we were about to sell our house, we learned our roof needed to be replaced. Restoration Roofing was quick and professional. They communicated well and were flexible with the payment method. They also handled coordinating with our insurance company."

- Alexis R.

"The process was smooth from beginning to end. They handled everything from taking photos of the damage and reaching out to my insurance company, to following up after the repairs and cleanup. All work was done in a day, and the roof looks fantastic!"

- Patti H.
Why Choose Restoration Roofing?
We Provide Top-Notch Roofing Service & Insurance Claim Guidance
Licensed & Insured

We make it easy for you to have confidence in the team you call.

Emergency Services Available

Roofing emergencies can't wait. Call for immediate help.

Same-Day Service

Don't wait weeks for an appointment. Book us same-day!

Get a Free Estimate

We make it easy to get started with a completely free quote.