Summerville Roofing Contractor
Roof Repair, Installation & Maintenance in Summerville, SC
A home's roof is one of its most important elements. It keeps the elements out and provides shelter for the residents inside. When a roof is in disrepair, the home and its people are at risk. At Restoration Roofing, our Summerville roofers are here to help residents with all of their roofing needs. From minor roof repairs to full replacements, we do it all. We also offer inspections and maintenance to keep your roof in excellent condition for as long as possible.
Reach out to our team at (843) 306-2939 to schedule a free estimate for roof installation, replacement, or repairs in Summerville.
What Are the Signs That a Roof Needs to Be Replaced?
Knowing when it's time to replace a roof instead of repairing it can be tricky. However, there are several signs that indicate a roof needs to be replaced instead of repaired.
Some of the most common signs include:
Large holes, missing shingles, or shingle gaps
Dark spots on the roof
Gaping holes in the flashing
Missing, cracked, or loose roof tiles
Large areas of missing granules
Large areas of water damage to the interior of the home
Cracked or bulging soffits or fascia
Large amounts of moss or algae growth on the roof
Installing a roof requires specialized training and experience. If your roof needs to be replaced, a professional Summerville roofing contractor can help you avoid costly mistakes and get the roof you want with minimal hassle. A professional can also help you find the right materials for your home and budget.
Why Homeowners Should Schedule Roof Inspections
Many South Carolina homeowners area don't realize that their roofs need regular maintenance to stay in good condition. Our Summerville roofing experts recommend that residents get their roofs inspected every year to catch small issues before they become big problems.
Here are just four of the many benefits of roof maintenance:
Weather exposure: Roofs in the Summerville area are constantly exposed to harsh weather conditions, including rain, wind, and sunlight. Over time, these elements can take a toll on the roofing materials, causing them to deteriorate, wear, or become damaged.
Prevent leaks: Regular maintenance helps identify potential issues, such as damaged or missing shingles, cracked or worn flashing, or other vulnerabilities, before they escalate into more severe problems like leaks or water damage.
Extend roof lifespan: By addressing minor issues through regular maintenance, you can prolong the life of your roof and delay the need for a complete roof replacement, which can be costly.
Maintain warranty coverage: Many roofing material manufacturers require regular maintenance to keep their warranties valid. Failing to maintain your roof as required may void your warranty and leave you without coverage in case of a problem.
For expert roofing services in Summerville, contact us online or give us a call at (843) 306-2939. We are available 24/7 to address your roofing needs!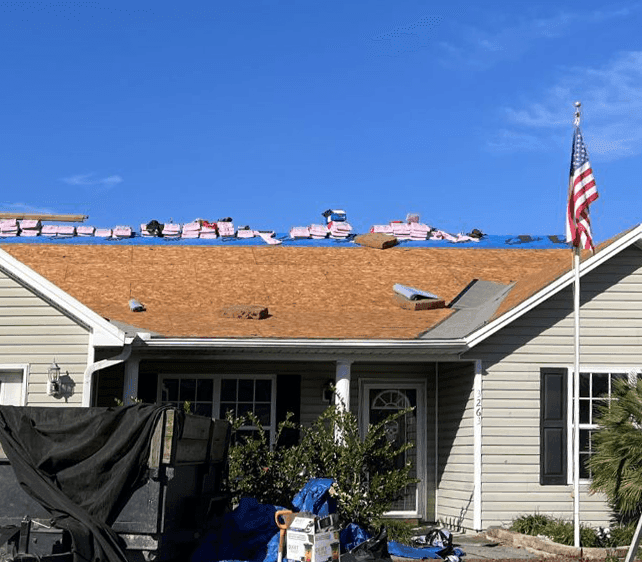 Our Roofing Services
How We Can Help You?
Hear From Real customer
Reviews & Testimonials
See what people have to say about working with us!
"Restoration Roofing did a great job on our roof. Matt made the whole process simple for us. He was friendly and professional. He serviced our roof while we were out of town and sent pictures throughout the entire process. I would definitely recommend."

- Matt B.

"Matt and his team were extremely responsive when repairing and replacing our damaged roof. Very professional and attentive during the entire process. They were also remarkably fast with the turnaround and actual scope of work. Highly recommended!"

- Hawk F.

"As we were about to sell our house, we learned our roof needed to be replaced. Restoration Roofing was quick and professional. They communicated well and were flexible with the payment method. They also handled coordinating with our insurance company."

- Alexis R.

"The process was smooth from beginning to end. They handled everything from taking photos of the damage and reaching out to my insurance company, to following up after the repairs and cleanup. All work was done in a day, and the roof looks fantastic!"

- Patti H.
Why Choose Restoration Roofing?
We Provide Top-Notch Roofing Service & Insurance Claim Guidance
Licensed & Insured

We make it easy for you to have confidence in the team you call.

Emergency Services Available

Roofing emergencies can't wait. Call for immediate help.

Same-Day Service

Don't wait weeks for an appointment. Book us same-day!

Get a Free Estimate

We make it easy to get started with a completely free quote.